Developing a product catalog can be quick and simple when all of the product photography has been taken care of before the project design begins. For this particular brochure, the client was not interested in an original logo design for their business – this made our design project even more simple. By selecting the perfect headline font, the best layout and a complimentary accent color to surround the images – the design created itself, well almost. After the placing the images into the provided areas, giving each image room to breathe – we created something memorable and completely original for the back of the brochure. The concept for the back of this brochure was to give the viewer a look at an area of blank tile; therefore creating the thought of what could be, while at the same time the mission statement provided valuable information as to how easy it actually could be to custom paint tile for any given area.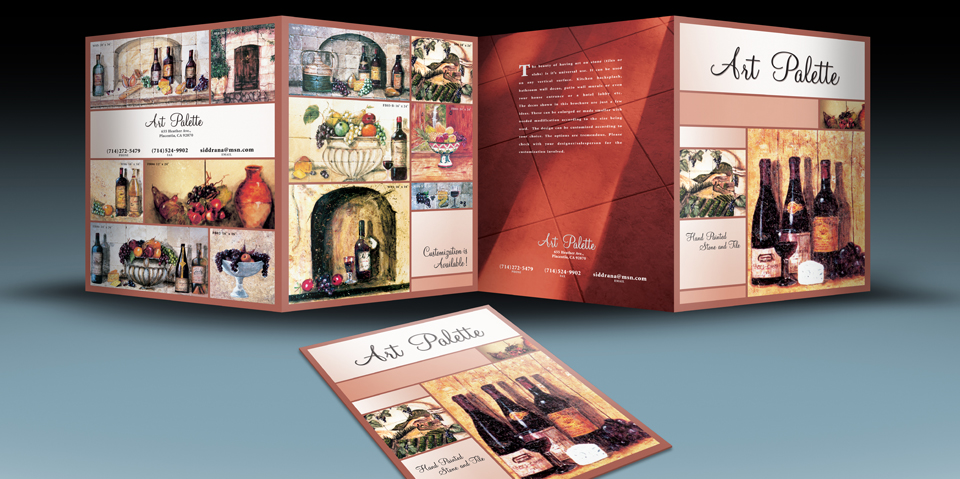 Design:
No research time was spent on this project, as the concept of this design was easy to create. One concept sketch was presented and the final that you see above was approved without any revisions. One and a half hours was spent selecting fonts to provide three sample headlines to choose from – no logo was needed. A photography purchase was necessary to complete the conceptual back cover concept, we colored it to match the rest of the design and also added that light and shadow on the blank tile for greater impact.

Production:
After the concept sketch was approved, the final hi-res production design began. One and a half hours was spent correcting the original product photography colors and retouching flaws within the imagery. Since the bulk of this project was mainly in the hi-res production of the brochure, the final five hours required to complete this project was spent on giving the colors within the reddish tanned layout a grained texture and adding light and dark gradients. Overall, this brochure was cost effective, quick and easy.

What was included:
• Research (none)
• 1 Concept sketch (1 hour)
• 3 Headline text treatment designs (.50 hours)
• Photography revisions (1.50 hours)
• High resolution production design (5 hours)
• Total Cost = $400