This project arrived at our studio as a word document with text only – no logo, no images or graphics of any kind and no ideas of where to visually begin the design of this professional brochure. Brochure projects that require a logo design, photography, custom graphics, illustrations and a big idea are not quick and simple – they are branding projects which require planning and client approval along the way. The first step to branding a business is the development of their business logo. As their logo is a great place to start, the next step was gathering all the text required to fill the brochure with pertinent information. Usually, text is a great indicator of how much graphic imagery will be needed – the less text, the more graphics and visa-versa. Laying out all of the text onto their significant pages, verifying it's readability, communication goals and overall purpose allows us to design the brochure as a presentation based on the open spaces available – producing graphics that re-enforce the text with purpose and branding it with style.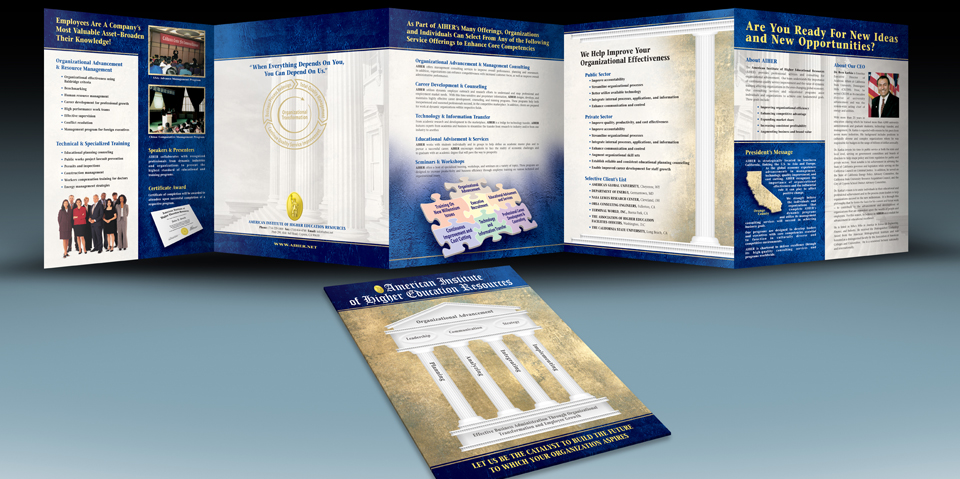 Design:
One hour of research time was spent on educational presentations, the statue of liberty, appropriate color choices and reading the text provided. One hour was spent laying out the text onto individual pages to establish readability. The iconic illustration of the statue of liberty took and hour and a half and the text for the logo was quick and easy. Three comprehensive brochure concept sketches were presented and the final low resolution design took four and a half hours to generate.

Production:
After the low resolution design was approved, the final hi-res production process began. Photography was purchased, the puzzle illustration was finalized, the cover monument illustration was created as a detailed hi-res file, text was revised and all the backgrounds were fine tuned, colored and enhanced to match the lo-res concept.

What was included:
• Research (1 hour)
• Layout pages with text (1 hour)
• 3 Concept sketches (3 hours)
• 1 Low resolution color design (4.5 hours)
• Icon illustration and text logo design (1.5 hours)
• Online photography purchases ($245)
• High resolution graphic production (6.75 hour)
• Hi-res puzzle illustration (2 hours)
• Final hi-res text revisions (.75 hour)
• Total Project Cost = $1,270.00