Back in the 90's, designing for desktop web viewing was the priority when developing your website. Today, most people access the Internet through their phones, tablets or other mobile devices. This phenomenon of targeting your communications to mobile users has been coined "MobileFirst".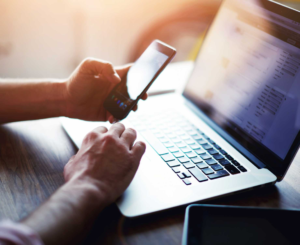 Today, building an online presence is done by designing for the phone first, the tablet second, and then the desktop, in direct reflection to the ways consumers are choosing to view content. Hundreds of hours of research, user experience data, and analysis have revealed that there are places of natural focus within the canvas that is a mobile screen.

User experience data helps inform designers on the best way to format that canvas in order to clearly and concisely present information to the user. These choices help lay the groundwork for a design scheme that can easily translate between all those different viewing methods and the various platforms they may be viewing from. Once these design themes have been unified, you will have created a strong foundation of HTML and CSS that allows you to build out your web presence in a way that makes exposure to your brand seamless and consistent across any platform or device.
Designing MobileFirst
When building a house, it's best to focus on a strong foundation. By taking the time to lay the groundwork and develop a strong MobileFirst presence, you can build an identity that is scalable and consistent across all devices and platforms. Making it easy for customers to interact with your brand, through intelligent design decisions is what MobileFirst Brand Design is really about. When you've only got one chance to make a first impression, it's best to put your best foot forward. Your mobile presence is that first impression.